ViS-A4 is a 6-axis motion controller with 4 simultaneously interpolated axes. This CNC controller has been designed for professionals, manufacturers of various CNC machines, retrofitters and hobbyists who want to equip their machine with a reliable, stable and flexible CNC system at a reasonable price.

Compatible with almost all types of motors and can be used with both stepper and most brushless AC servo drives, in fact any drive that is compatible with the STEP/DIR interface. Most stepper motor drives are compatible with the ViS CNC controller (Leadshine, YAKO, ...).

The maximum number of inputs and outputs is not limited by the CNC controller itself. When the RS-485 network is included in the CNC system, it is possible to increase the total number of inputs/outputs up to 240 (plus inputs/outputs on the CNC controller board).
Dimensions: 150×100×20 mm (5,9×3,9×0,8 in)
Weight: 0.2 kg (0,44 lbs)
ViS cnc controller kit includes:
1x ViS cnc controller in an antistatic bag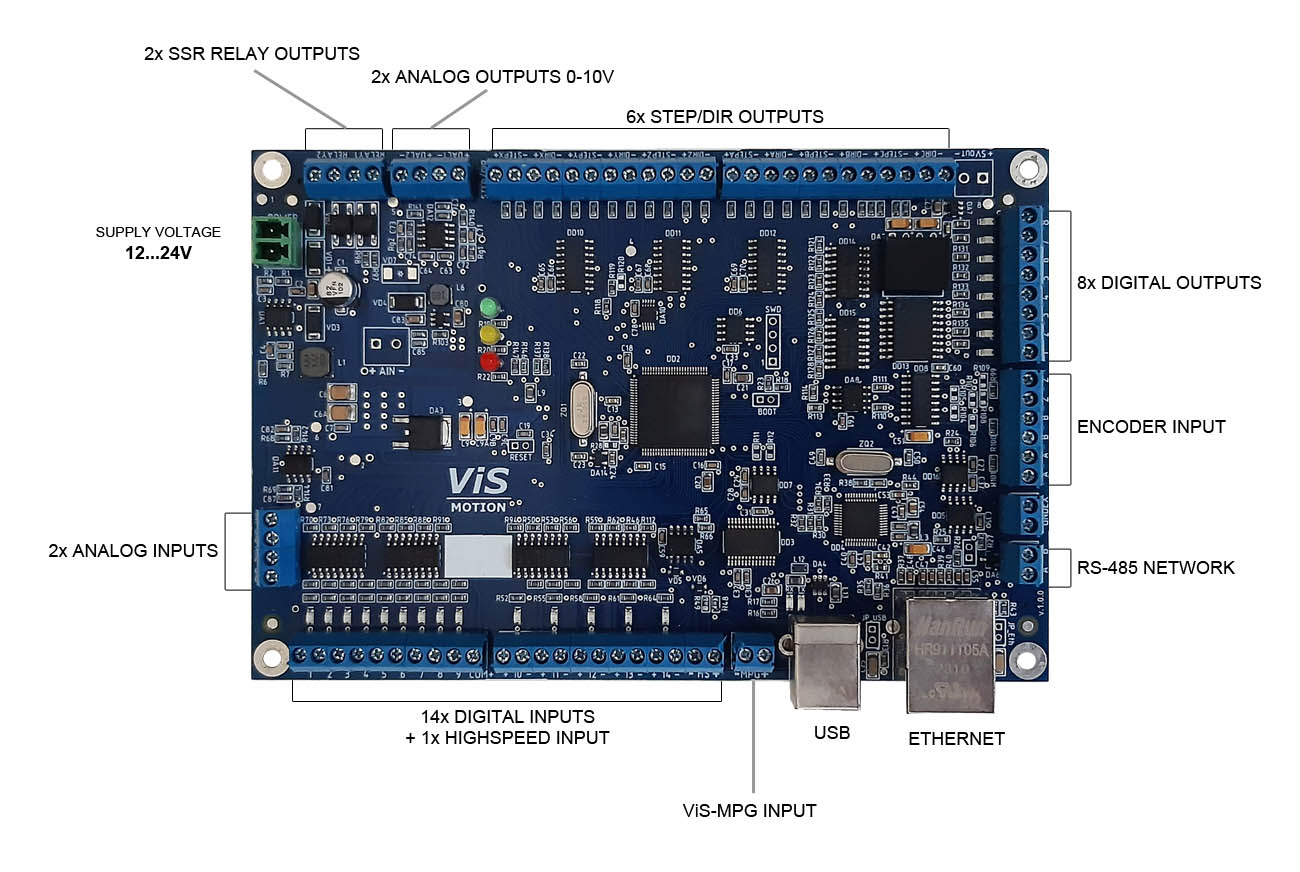 CNC system ViS motion: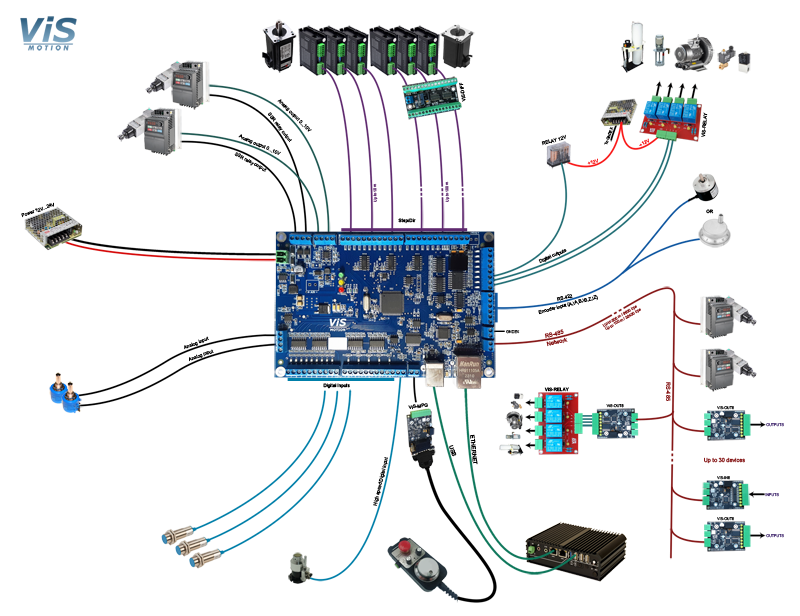 HARDWARE
Number of axes
6
Simultaneously interpolated axes
4
Maximum frequency of STEP on each axis
1 MHz (1000 kHz)
Communication types
Ethernet, USB
RS-485 interface network
YES
Isolated digital inputs
14 + 1 high speed
Digital outputs
8 + 2 SSR
Maximum load of digital output
300 mA
Analog inputs (5V)
2
Analog outputs (0-10V)
2
Maximum load of analog outputs
50 mA
Encoder Inputs
1
MPG hand wheel support
YES
Supply voltage
12V...24V
Ambient temperature range
+0oC ... +60oC
Relative humidity
5% ... 90%
SOFTWARE
Operating Systems
Windows, Linux
Software installation
Very simple
Visualization
Yes, 3D
Accelleration/decelleration look ahead
Unlimited
Accelleration/decelleration profile
Any
(Linear,
S-curve,
Bell-shaped,
etc.)
Macros support
YES
G-code program size
Unlimited
Feed/rapid rate override
1...300%
Spindle speed override
1...200%
Spindles
Up to 4 spindles *
Spindle control
RS-485 and/or 0-10V
RS-485 protocol
Modbus *
MDI mode
YES
G-code smoothing
Spline interpolation *
Software limits
YES
Virtual keyboard for touch
YES
System units
Inch or Millimeters
Work Coordinates Systems
G54-G59, G5401-G5499
Software slave axes (any discrete/resolution)
YES
and many others...
* option